Grand Park Athletic Complex
The Grand Park Athletic Complex features seven large multipurpose fields and two youth fields. All have synthetic grass and lights and are designed to accommodate a variety of sports, including baseball, softball, lacrosse, soccer and football. The complex also has a six-tunnel batting cage, plenty of parking and three towers for restrooms and concessions.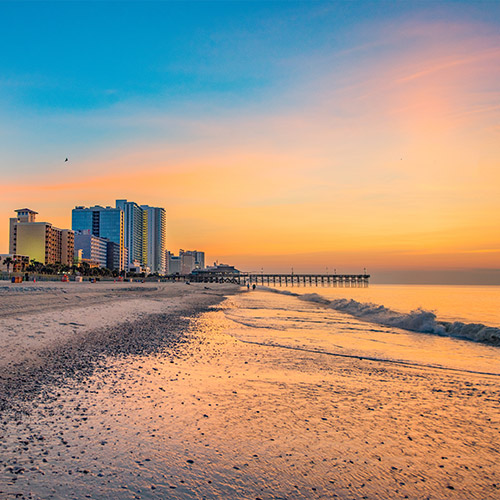 Ahh, the Grand Strand. So named by a newspaperman of the 1940s, the name has stuck, and it describes some 60 miles of wide, safe, beautiful, sandy beaches. With all there is to do along the Grand Strand, visitors regularly report that the #1 reason they visit Myrtle Beach is for the beach itself. With more than 14 million visitors coming annually, it's a good thing Myrtle Beach beaches remain friendly and safe, clean and inviting. Early-morning beach walkers enjoy year-round quiet times as the sun rises over the Atlantic Ocean, and late-night strollers, flashlights in hand, marvel at the spectacular moonrises and the haunting effect of a nighttime visit. Mid-day, especially in the summer months, the beach takes on a new energy while families and singles, young and old, relish in America's favorite pastime.
Play Doesn't Stop at The Beach!
With world-class sports facilities, endless entertainment, and the finest Southern hospitality around, team bonding has never been this fun. Check out visitmyrtlebeach.com to find out more about fun-filled entertainment options at The Beach!

Broadway at the Beach is the one incredible place everyone needs to visit to experience the best that Myrtle Beach has to offer. Broadway features a wide range of outstanding activities for all ages, and there is always something new and exciting to do, including fireworks and special events throughout the year.
Uncover shopping treasures galore as you stroll the exciting world of Broadway. This colorful, relaxed, and enjoyable experience features one-of-a-kind shops and boutiques as well as nationally recognized names like Ron Jon Surf Shop, Savannah Bee Company, Earthbound Trading Company, and more.
Looking for great tastes? You'll never go hungry at Broadway at the Beach. With an incredible selection of more than twenty inviting restaurants such as Wahlburgers, Hard Rock Café, Senor Frog's, Margaritaville, Dave & Buster's, and The Grumpy Monk, as well as a range of light-bite eateries, it's easy to satisfy everyone's appetite!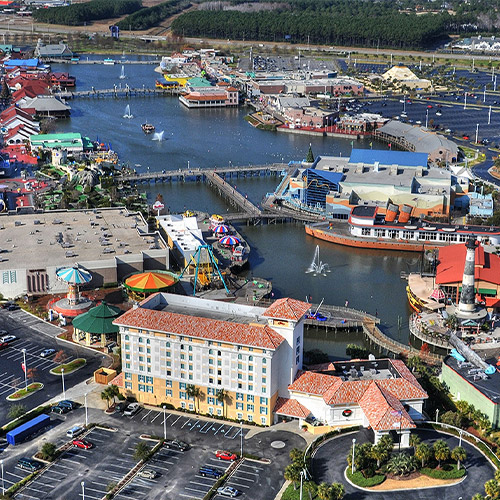 The Myrtle Beach Pelicans are a Minor League Baseball team in Myrtle Beach, South Carolina, and the Single-A affiliate of the Chicago Cubs. The Pelicans compete in the Carolina League. Home games are played at TicketReturn.com Field, which opened in 1999 and seats up to 6,599 people.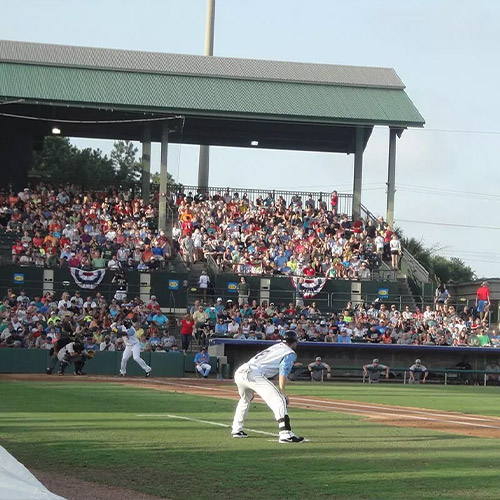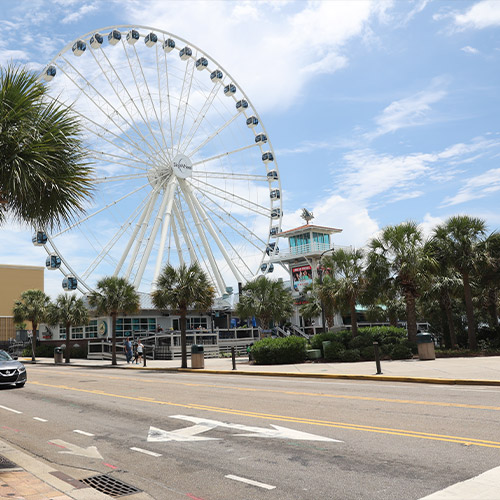 The centerpiece of the Myrtle Beach Boardwalk, the Myrtle Beach SkyWheel offers soaring panoramic views of the Atlantic Ocean.
This 187-foot Ferris Wheel made its debut in Myrtle Beach in 2011, immediately lighting up the night sky with flashing bursts of color. The wheel is made up of 42 glass-windowed gondolas, each with temperature control that comes in handy during the summer and winter months. Each gondola holds up to six people, but they don't require unrelated people to share a booth. The ride is typically made up of three revolutions, which usually lasts between eight and ten minutes, but there's also a VIP option that takes place in a leather-seated gondola and lasts twice as long. You've seen it on tv, on postcards, from your hotel room – now it's time to take a ride and see Myrtle Beach as you've never seen before.
Myrtle Beach Boardwalk & Promenade
Few oceanfront sights are as well-loved as a Boardwalk teeming with families, food, and amusement park rides. Nothing says "summer" quite like a visit to an iconic seaside boardwalk; in fact, great songs have been written in its honor.
Since May 2010, the Boardwalk and Promenade has been that iconic spot for Myrtle Beach. The award-winning Boardwalk stretches from just south of 2nd Avenue Pier to just north of the 14th Ave Pier. Along the 1.2-mile oceanfront boardwalk are hotels, attractions, shops and food.
Hungry visitors will love the food and views from Wicked Tuna at Second Avenue Pier. The oceanfront eatery is known for seafood and sushi but offers plenty of "land" food options as well. Enjoy a cold cocktail with breathtaking views of the Atlantic Ocean and the iconic Boardwalk.
The Myrtle Beach Boardwalk offers family-friendly entertainment throughout the year, including a New Year's Eve bash, summer concerts and street performers, and more. In 2022, the Myrtle Beach Boardwalk is getting a face-lift as, section by section, boards are replaced with more durable materials.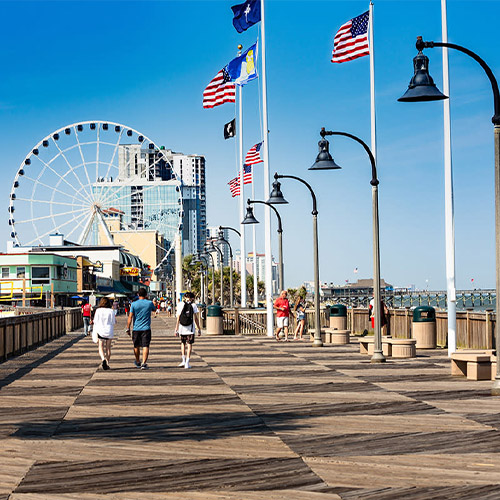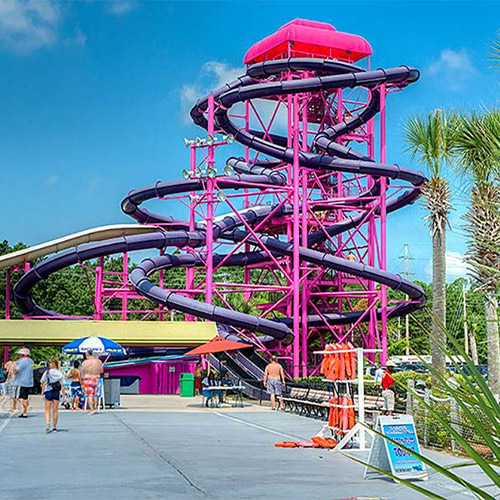 Myrtle Waves Water Park is where Fun Comes to Play!
A favorite among visitors and locals, Myrtle Waves will cool you down with over 20 acres of swerves, curves, waves, chutes and over 1 million gallons of water!
Myrtle Waves has more than 24 slides and attractions like The Rockin' Ray, Arooba Tooba, Riptide Rockets, Turbo Twisters, Super Chute, Thunderbolt Speed Slides, Snake Mountain, Night Flight, the Ocean in Motion Wave Pool and the Lazy River.
Enjoy the thrill of riding a wave on Tsunami! The only FlowRider© in South Carolina provides a fun, safe platform where young and old alike can get a taste of the surfing lifestyle!